Guitar Instructors

---
Guitar Lessons in Cherry Hill, Marlton, Voorhees & Haddonfield, NJ.
Cale Hoeflicker
Guitar Instructor
(Electric, Acoustic, Classical)
Cale Hoeflicker has over ten years of teaching experience working with all kinds of students, from beginners to music majors in college.
Cale was first inspired to pick up the guitar by the rock bands of the early nineties. As he continued to study the instrument with renowned guitar teacher Vincent Bredice, he became interested in jazz and classical guitar. By the end of high school he focused his efforts on classical guitar and went on to study with some of the most respected teachers in the world, and to perform throughout the United States, Europe, and South America.
Cale has taught in colleges, community music schools, and public schools. In every teaching situation, he makes it a priority to help students learn whatever style of music they may be interested in.
"Even in the early stages of instruction, there is always a way to link concepts and skills from the lessons to a song the student already likes.  It takes a lot of practice to gain proficiency, but it can be a lot of fun to practice if you like the music you're playing."
Cale works to help students set their own goals and chart a course to success. He has spent a lot of time researching a variety of instructional materials and will help each student choose a method that best suits him or her. While the focus of the lessons is to learn music fundamentals and develop a healthy, efficient technique, Cale also encourages students to listen to and watch as many guitarists as they can and also to learn about the history of the instrument.
"Most people are not aware of the full potential of the guitar. In American popular music, we're used to seeing the guitar as an accompaniment for singing, but it can do so much more. Some of my most rewarding experiences as a teacher have been introducing students to a new style of music and seeing how they adapt it into their own way of playing. For instance, I may teach a student a classical piece, and the next week they come back and instead of practicing the classical piece, they've composed their own piece using a technique they learned from the classical piece. It's fun to be a part of that kind of creativity."
Cale earned his Doctorate in music at Indiana University's Jacobs School of music, a Master of Music and Bachelor of Music Performance degree from University of Arizona, and also spent a year at the Franz Liszt Musikhochschule in Weimar, Germany on a Fulbright scholarship.
His most influential teachers include Ernesto Bitetti, Thomas Patterson, Lou Mowad, Monika Rost, and Thomas Müeller- Pering.

Call (856) 662-6855 today if you'd like more information about Cale's availability.


Christopher Peary
Head Guitar Instructor
(Electric, Acoustic, Classical)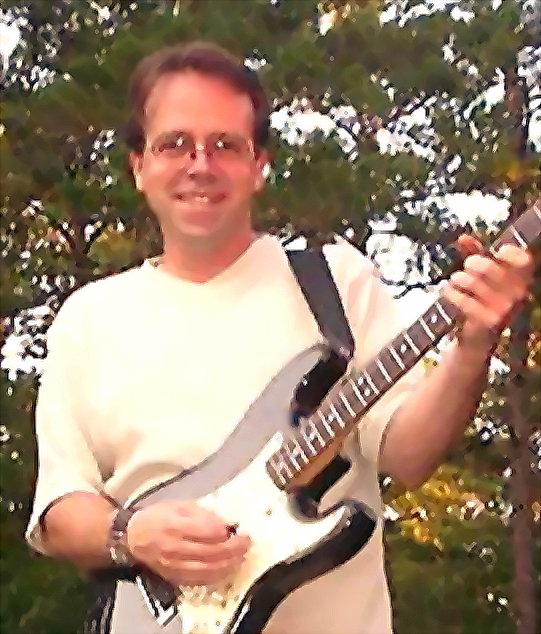 Chris graduated in 1994 from North Carolina School of the Arts. As the head of our guitar department, he is the most sought-after guitar teacher here at the Cherry Hill Academy of Piano and Guitar.

He has been committed to teaching for over 10 years and offers his students a diverse and creative approach to guitar lessons. His extensive experience as a performer, guitar instructor and recording engineer will benefit each and every one of his students.

Chris started culminating his unique approach to the guitar at the age of ten. At the age of eleven he was performing Blues in the Chicago area.

"I quickly realized the potential of the guitar when I began studying jazz. From there I was given the opportunity to move to North Carolina and study contemporary American music."
Living now in the South Jersey area, Chris' mature style is rich with overtones and subtle textures. His approach to teaching is for his students to be well versed in the understanding of harmony and melodic phrasing.

"As a student begins to understand the ideas and techniques that are necessary to play the guitar, they can then apply the knowledge from their lessons to the music they are most interested in performing. I also strongly encourage them to write and record in the style they have chosen."
All of Chris' students have experienced the thrill of participating in the R.P.M. (Recording Production Month) Challenge. R.P.M. participants must write and produce an album of fifty minutes or more over the month of February. 

The goal of this endeavor is to help students focus on a project from start to finish, giving students the work ethic that they can use throughout their lives. 

Many of Chris' students have gone on to further their education at such institutions as the University of the Arts, Drexel and New York University, to name just a few. Others have continued their creative endeavors along the lines of music management, engineering and creative writing.
"The fundamental rewards of learning a musical instrument are boundless. I'm delighted in seeing a student's creativity mature on their instrument and knowing that I helped in the learning process."
Chris teaches students of all age and skill levels, and is well versed in many styles of music, including blues, rock, jazz, country and classical. 

Call (856) 662-6855 today if you'd like more information about Chris' availability.

Connect with us on Facebook for regular updates on practice tips, performance tips and much, much more!

Guitar Teachers in Cherry Hill, Marlton, Voorhees & Haddonfield, NJ.

In-Home Piano Lessons & Guitar Lessons 
Proudly Serving: Cherry Hill, Marlton, Evesham Township, Haddonfield and Voorhees, New Jersey 

Phone: (856) 662-6855
Hours: Monday to Friday 10:00 a.m. to 8:00 p.m.
Saturday 12:00 p.m. to 3:00 p.m.
Closed on the following National Holidays:
* New Years Day * Memorial Day * Independence Day
* Labor Day * Thanksgiving * Christmas

Remember To Bookmark Our Site!
Follow Us On Social Media