Instant Piano




For Busy
Adults
Learn The Secrets of Piano in Just 16 Weeks!

I took 13 years of traditional piano lessons when I was a kid. When I turned 18 I quit playing. Not because I couldn't play, but because I didn't really understand how music worked.
When I was in college I met a street musician who taught me chords and how to play piano by ear.
The amazing thing about this street musician is that he never had a single piano lesson in his entire life, yet he could play better than I could and he knew more about music than I did.
With the techniques that he showed me, it was like I had finally been let in on this big secret that only professional musicians knew.
The techniques that I teach in my 16-week class are not that complicated, which is why most adult students can learn them in just a few months.

New Private Classes Starting Now!


So many adults have told us they regret not continuing piano lessons as a kid, or not having the opportunity to even start.

The Instant Piano method really works and Guy loves teaching this class. He's gotten great feedback over the years.

In the testimonial above, Bob Kenny shares his experience as a student who had a lot of success in my Instant Piano For Busy Adults class at Mercer County Community College in West Windsor, NJ.
I remember Bob struggling for the first 2 weeks. He just wasn't getting it. And then, the light bulb came on!
Once he understood the core components of the Instant Piano method, it was clear sailing. Of course, most students who take my class, like Bob, are complete beginners.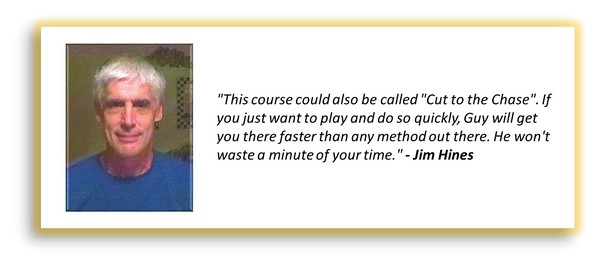 Jim Hines also took my class, and he picked up my Instant Piano techniques in record time.

Jim didn't know a single thing about playing the piano before taking my class. By the end of my class he was reading sheet music and playing songs fluently with both hands.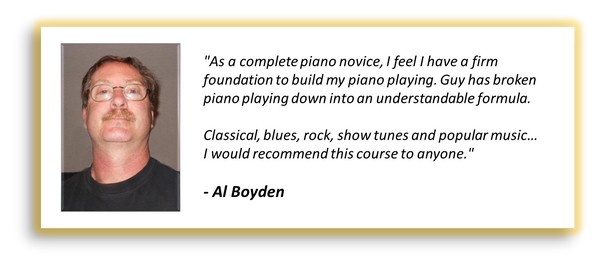 Al Boyden describes my method as an understandable formula, and that's exactly what it is.
My goal is to simplify the learning process so that my students will have fun and actually accomplish their goal of playing the piano. If you follow my instructions, you can't fail.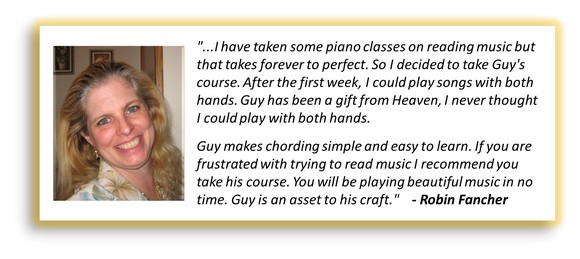 And then there is Robin Fancher. She was one of the rare few who had taken some piano classes before enrolling in my Instant Piano For Busy Adults class.
By the end of my class it was like Robin had been playing the piano for years, and she was reading sheet music like a pro!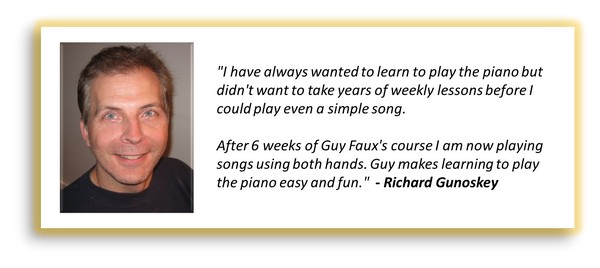 Guy took traditional piano lessons as a kid, but he also learned a lot of professional playing techniques from an extremely talented street smart musician.

Like Eddie Van Halen combining two different guitars for one unique sound, Guy developed a hybrid method of teaching to give his students the best of both worlds.
He's used this method for both his private students and eventually in a college classroom.

We've had many adults tell us, "I just want to play my favorite songs, but I don't want to take years of lessons."
This gave Guy the idea to put his college course online, and he has had great success teaching his class on Zoom.
16 LIVE Online Sessions
45-Minute Private Classes

Teaching online allows me to offer my students a number of free resources that were previously unavailable in the classroom setting.
I am now offering my Instant Piano For Busy Adults online class in 16 LIVE 45-minute sessions, (

choose your day and time

).
You can start anytime of the year! Billing these 16 private 1-on-1 classes is broken down into 4 easy payments of $160 per month, over four months!

Learn the secrets of playing the piano that I learned from a self-taught street musician.
To Enroll Call: (856) 662-6855 or complete the form below and we will contact you at a convenient time.

Instant Piano




For Busy
Adults
Learn The Secrets of Piano in Just 16 Weeks!
Instant Piano
For Busy Adults
Save thousands of dollars in lessons fees by learning
the secrets of piano in just 16 weeks!

Enrollment
Call: (856) 662-6855

Hours
Mon. to Fri. 10 am - 8 pm EST
Sat. 12 pm - 3 pm EST

Have Questions?
Email Guy at: info@cherryhillacademy.com

Serving
Connecticut, Florida, Georgia, Maine, Maryland, Massachusetts, New Hampshire, New Jersey, New York, North Carolina, Ohio, Pennsylvania, Rhode Island, South Carolina, Virginia.