Piano Lessons in Cherry Hill, Marlton, Voorhees & Haddonfield, NJ.
---
Guitar Lessons In Cherry Hill, Haddonfield & Marlton, NJ.
Piano Shortcuts
Hi, my name is Guy Faux and I am the developer of a new method of piano instruction called Piano Shortcuts, which offers students a much easier way of learning how to play the piano.
I designed this course for my students who were too busy with homework and after-school activities to meet the demands of traditional piano lessons, which is roughly eighty percent of my student roster. 
Just one of these time-consuming demands is learning how to read standard sheet music.
The frustration that comes with learning to read sheet music is the number one reason why students lose interest and quit piano lessons. It's what motivated me to develop Piano Shortcuts.
Now I love classical music — it's the music I studied as a kid — but most students really aren't interested in Bach, Beethoven or Mozart, so I decided to start teaching my students songs they enjoyed listening to and really wanted to play.
I also developed a shortcut that made it easier for students to read sheet music, and the results were amazing! 
These two shortcuts alone have dramatically increased practice times from an average of 10 minutes a day, twice a week — to a staggering 25 to 30 minutes a day, 5 days a week. 
---
| | |
| --- | --- |
| | I got my daughter a keyboard for her birthday. I enrolled her in a music school but she was struggling to learn it. We started Piano Shortcuts with Mr Guy and she is now confident. |
He takes his time to show the notes and break it into patterns. My daughter was excited to learn a tune so soon. 

Her lesson is so much fun and on the first day, she played a song. Mr Guy is an awesome teacher. My daughter loves Piano Shortcuts. Thank you so much. The best teachers are born to inspire others, and Mr Guy does that, very naturally. Dawn P., Cherry Hill, NJ
---
My students were actually enjoying their piano lessons and enthusiastic about practicing. 
Even though this is a new course offering by the Cherry Hill Academy of Piano & Guitar, I've actually been teaching this method for 16 years now and my students couldn't be happier.
My students are happy because they understand what they are learning and are able to do things with music that they couldn't do with traditional piano lessons!
Please Note:

These are not your grandmother's piano lessons!  
Piano Shortcuts is fast, fun and easier than you ever thought piano could be. To learn more about Piano Shortcuts call: (856) 662-6855
Piano Shortcuts - Frequently Asked Questions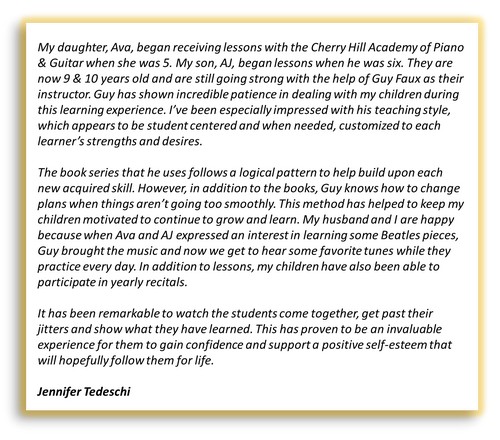 ---
Providing piano lessons and guitar lessons in Cherry Hill, Marlton, Voorhees and Haddonfield, NJ. Our professional, University-trained teachers come directly to your home.

Since 2007 the 

Cherry Hill Academy of Piano & Guitar 

has been offering one-on-one piano and guitar lessons customized to each individual student, and all in the comfort of your own home

. 
In-home piano and guitar lessons are a time saving solution for busy parents and students, allowing students to learn in a safe and familiar environment.

Are All Music Schools The Same?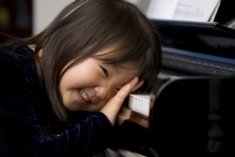 Taking piano lessons or guitar lessons is more than just a matter of having a qualified teacher -- it is having an environment that is relaxed and comfortable. What better place than your own home? What better school than the Cherry Hill Academy of Piano & Guitar!

In addition, we offer piano lessons and guitar lessons exclusively, allowing us to focus all of our attention and resources on hiring the most qualified and professional piano and guitar instructors in the tri-state area.
We believe this is what sets us apart from many of the local and national music school chains.

Highly Qualified, Professional Instructors

You can be confident that we have taken every step to ensure that your son or daughter will learn from a highly qualified, professional instructor.

Parents should know that to become a teacher at the Cherry Hill Academy of Piano & Guitar, all potential music instructors must pass a 3-part, in-depth evaluation process consisting of an in-person interview detailing teaching methods and techniques, as well as a performance and knowledge based audition...and finally a complete, nationwide background check.

Connect with us on Facebook for regular updates on practice tips, performance tips and much, much more!
In-Home Piano Lessons & Guitar Lessons 
Proudly Serving: Cherry Hill, Marlton, Evesham Township, Haddonfield and Voorhees, New Jersey 

Phone: (856) 662-6855
Hours: Monday to Friday 2:00 p.m. to 9:00 p.m.
Saturday 1:00 p.m. to 6:00 p.m.
Closed on the following National Holidays:
* New Years Day * Memorial Day * Independence Day
* Labor Day * Thanksgiving * Christmas

Remember To Bookmark Our Site!
Follow Us On Social Media