Piano Lessons in Cherry Hill,

 Marlton, Haddonfield & Voorhees, NJ.
---
Guitar Lessons In Cherry Hill, Haddonfield & Marlton, NJ.
Providing piano lessons and guitar lessons in Cherry Hill, Marlton, Voorhees and Haddonfield, NJ. Our professional, University-trained teachers come directly to your home.

Since 2007 the 

Cherry Hill Academy of Piano & Guitar 

has been offering one-on-one piano and guitar lessons customized to each individual student, and all in the comfort of your own home

. 
In-home piano and guitar lessons are a time saving solution for busy parents and students, allowing students to learn in a safe and familiar environment.

Piano Adventures - Level 2B
The 4 videos displayed below are examples from Lesson Book 2B of the Piano Adventures series. Each piece consistently introduces new musical terms and symbols, while continually reinforcing concepts from previous piano lessons, ensuring a complete and thorough education in piano technique and artistry. 

Another excellent method that our teachers use is the Alfred's Piano Course, which offers the same high musical standards as the Piano Adventures series by Faber & Faber.
Whether it's Alfred's or Piano Adventures, both methods were developed to not only ensure that every student receives a comprehensive musical education, but also to engage and challenge each student, providing a course of study that will keep your child motivated and interested. 
Are All Music Schools The Same?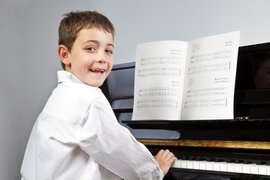 Taking piano lessons or guitar lessons is more than just a matter of having a qualified teacher -- it is having an environment that is relaxed and comfortable. What better place than your own home? What better school than the Cherry Hill Academy of Piano & Guitar!

In addition, we offer piano lessons and guitar lessons exclusively, allowing us to focus all of our attention and resources on hiring the most qualified and professional instructors in the tri-state area.
We believe this is what sets us apart from many of the local and national music school chains.

Highly Qualified, Professional Instructors

You can be confident that we have taken every step to ensure that your son or daughter will learn from a highly qualified, professional instructor.

Parents should know that to become a teacher at the Cherry Hill Academy of Piano & Guitar, all potential music instructors must pass a 3-part, in-depth evaluation process consisting of an in-person interview detailing teaching methods and techniques, as well as a performance and knowledge based audition...and finally a complete, nationwide background check.

Connect with us on Facebook for regular updates on practice tips, performance tips and much, much more!

In-Home Piano Lessons & Guitar Lessons 
Proudly Serving: Cherry Hill, Marlton, Evesham Township, Haddonfield and Voorhees, New Jersey 

Phone: (856) 662-6855
Hours: Monday to Friday 2:00 p.m. to 9:00 p.m.
Saturday 1:00 p.m. to 6:00 p.m.
Closed on the following National Holidays:
* New Years Day * Memorial Day * Independence Day
* Labor Day * Thanksgiving * Christmas

Remember To Bookmark Our Site!
Follow Us On Social Media