Quick Piano Tip #5

---
Music Lessons in Cherry Hill, Marlton, NJ.

Call: (856)662-6855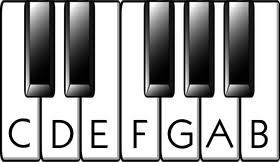 Pay Attention To Rests

Most students want to play songs up to speed, even when they're not quite ready. Part of this process of rushing through a song involves breezing by rests and not giving them their full count.

You may not even be aware of the rests when you're listening to a recording, but if the rests weren't there, you'd definitely notice a difference.

When you acknowledge that the silent parts of any song are just as important as the notated parts, you can be sure that you're musicianship is growing.

Offering quality music lessons in: Piano • Guitar • Voice
1 FREE Lesson Every 13 Weeks!
Call: (856) 662-6855

Hours
Mon - Fri: 10:00 am - 8:00 pm
Saturday: 12:00 pm - 3:00 pm


Serving: Cherry Hill, Cinnaminson, Maple Shade, Merchantville, Moorestown, Marlton,
Voorhees, NJ & Vicinity.

Follow Us On Social Media
Now Offering In-Home Voice Lessons