3 Tips To A Great Recital
For Piano & Guitar Students - All Levels
---
Piano & Guitar Teachers in Voorhees, Marlton, Haddonfield & Cherry Hill, NJ.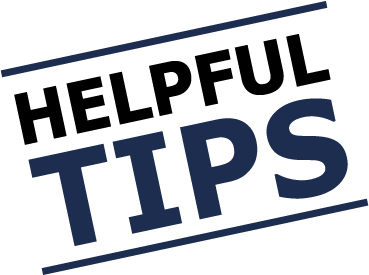 You would think that somewhere in this article you would find a tip to emphasize consistent, focused practice every day -- but since that's the most obvious advice I could give, I thought I'd share some time-tested, proven techniques that aren't so obvious.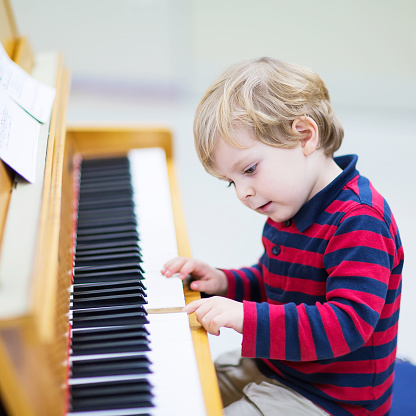 One of the most common mistakes made on recital day occurs at the moment a student sits down at the piano.
Many students will open their music book and immediately start playing.
This is merely the result of a student being so nervous that they just want to get the whole thing over with and get back to their seat as quickly as possible. I know this because that's what I used to do when I was a kid taking piano lessons.
The reason a student is nervous is because he or she really doesn't know what to do.
Whether it's a student's first recital or twentieth recital, nervousness can be eliminated or significantly reduced, and replaced with an unshakable confidence that will allow them to give their performance without being affected by a bad case of nerves.
Imagine being able to enjoy performing, instead of dreading the day and counting the days and minutes until it's over.
So here are a few tips to not only make recital day a whole lot more bearable, but enjoyable! 

Piano Recital Tip #1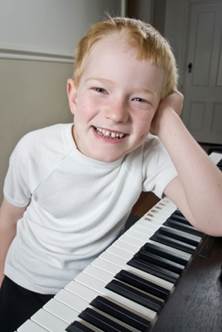 Being a little nervous is common, but you don't want to be nervous and uncomfortable.
So, after you step on stage, sit down at the piano and open up your music book, take a few seconds to adjust the piano bench so you're at the proper distance from the piano for your height and arm length.
It's also a good bet that the piano or keyboard that you'll be performing on is different from the one you practice on in your home. So take a few extra seconds to find your starting notes and positions for both hands.
If you need to use the sustain pedal and are performing on a portable, digital keyboard or piano, then make sure the pedal is within reach and where you need it to be after you have adjusted the bench. However, if you're performing on an acoustic piano, then the pedal will be stationary and you'll need to adjust the bench accordingly.
These few extra seconds make you look like an experienced performer, (even if you're not), and it allows you to settle your nerves.
Once you are settled, take another few seconds to look over your music and recheck your hand positions. Now you are ready to start playing.
Guitar Recital Tip #1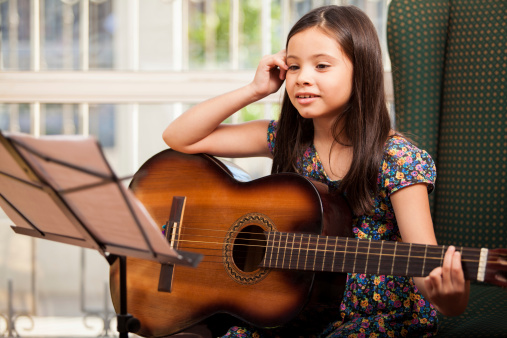 Guitar players have it a little easier than piano players because you get to perform on your own instrument, so having to adjust to a different instrument that you have never played on isn't even an issue.
Of course, you still want to be comfortable while you are performing, so on-stage equipment adjustments may be necessary, especially if you're following a performer who was 3 feet taller than you.
If you're singing and using sheet music or a chord/lyric chart, then you may need to lower the microphone and music stand, which is good, because it allows you to kill a little time and get comfortable with your new surroundings.
Another difference between piano players and guitar players is tuning. Piano players are stuck with what they're given, while guitar players are able to tune their instrument with relative ease and quickness, once again giving them a legitimate opportunity to stall and settle their nerves.
Click Here For Piano & Guitar Recital Tip #2
Connect with us on Facebook for regular updates on practice tips, performance tips and much, much more!

Piano & Guitar Lessons




Cherry Hill,

Cinnaminson, Delran,

Haddonfield, Maple Shade, Marlton, Merchantville, Moorestown, Voorhees, NJ.


Music Lessons In Your Home




Also Offering

Online

Lessons!



---
1 FREE Lesson Every 90 Days!
Call: (856) 662-6855

Lesson Time Slots
Mon - Fri: 1:00 pm - 8:00 pm

Hours
Mon - Fri: 10:00 am - 8:00 pm
Saturday: 12:00 pm - 3:00 pm