Quick Piano Tip #4

---
Music Lessons in Cherry Hill, Marlton, NJ.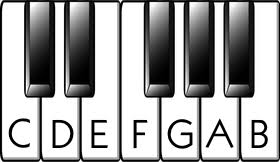 Don't Be Too Hard On Yourself

We all make mistakes, especially when learning a new song or when relearning an old song that hasn't been played in a while.
Instead of being critical, realize that even professional musicians have to go through old material on a regular basis.

Some of the best musicians in the world practice 3 to 4 hours a day to stay in top playing condition.
If you've ever been amazed at some musician on YouTube, then you can be sure that they have invested a great deal of time in perfecting their craft.

30 minutes of practice each day is good to start out, but to really excel on your instrument, you will need to gradually increase that amount of time. So, if you're still practicing 30 minutes a day, don't beat yourself up when you make a mistake.

Mistake-free playing requires hours of practice time. If mistake-free playing is your goal, then gradually add 5 to 10 minutes to your daily practice sessions every month or so.
If you are truly serious about mastering your instrument, your daily practice time should increase by 1 hour every year until you are practicing 3 to 4 hours a day.

However, if you are just interested in playing as a hobby, you will still be able to accomplish quite a bit with 30 minutes of daily practice.

---
Piano & Guitar Lessons




Cherry Hill,

Cinnaminson, Delran,

Haddonfield, Maple Shade, Marlton, Merchantville, Moorestown, Voorhees, NJ.


Music Lessons In Your Home




Also Offering

Online

Lessons!



---
1 FREE Lesson Every 90 Days!
Call: (856) 662-6855

Lesson Time Slots
Mon - Fri: 1:00 pm - 8:00 pm

Hours
Mon - Fri: 10:00 am - 8:00 pm
Saturday: 12:00 pm - 3:00 pm