Guitar Lessons



---
Now Offering Guitar Lessons Online !
Guitar Lessons in Cherry Hill, Marlton, Voorhees & Haddonfield, NJ.
All age and skill levels.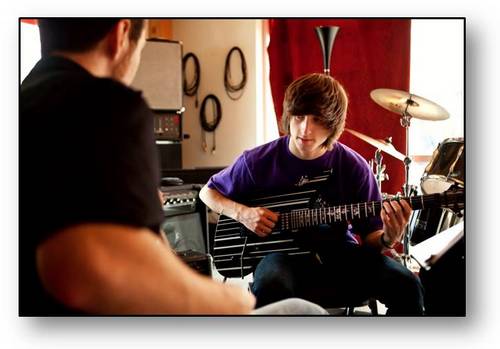 GUITAR LESSONS

Our guitar teachers teach rock, pop, jazz, blues, metal, country and classical guitar lessons on electric and acoustic guitars.
Beginner students can expect to work on chords, simple songs and melodies, sight reading and theory. We balance musicianship and fun by making sure that each lesson you are challenged with a new technical or theory concept, but always end with something fun such as your favorite riff or song.
We use a variety of guitar method books to accomplish this and encourage students to bring CDs or their iPod to their lesson to learn their favorite tunes.
WHAT IS THE BEST AGE TO START GUITAR LESSONS?

We recommend to start guitar lessons at age 8. At this age, they are more focused and motivated to practice. They are also able to handle a full sized guitar.

Don't worry, there are exceptions! If your child is showing a great amount of interest as young as age 6, our guitar teachers can get them started!

There are guitars designed smaller just for those students, and our teachers can help you when making your first purchase.

WHAT DO YOU LEARN IN YOUR MUSIC LESSONS?

That question is often asked by prospective students. Our teachers make it a priority to get to know you on a personal level and to become familiar with your personal musical needs and goals.

We do not treat every student the same in terms of what and how we teach.

An eight year old having their first guitar lesson will have very different needs than a fifty eight year old taking up guitar for the 1st or even the 2nd time after having had lessons as a child.

The main reason to choose the Cherry Hill Academy of Piano & Guitar as your music lesson provider, is that we are sensitive to the fact that every student is an individual.

If you enroll here for lessons, we will work with you to make a plan that will fit your needs and musical preferences. At the first lesson your teacher will ask you about your favorite type of music, and set goals to help accomplish whatever musical aspirations you have for yourself or your child.

ARE YOUR INSTRUCTORS QUALIFIED?

All of our teachers are University trained, have warm personalities and are extremely friendly and strive to get to know each student and their parents on a personal level.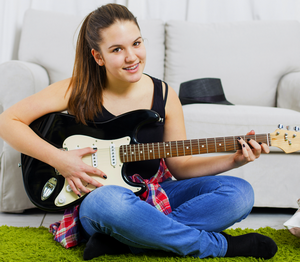 IN-HOME RATES

$35.00 per 30-minute private lesson held once a week.

You will receive 1 free lesson every quarter, or 4 free lessons per year for all year 'round students.


Guitar Lessons in Cherry Hill, Marlton, Voorhees & Haddonfield, NJ.


Piano & Guitar Lessons




Cherry Hill,

Cinnaminson, Delran,

Haddonfield, Maple Shade, Marlton, Merchantville, Moorestown, Voorhees, NJ.


Music Lessons In Your Home




Also Offering

Online

Lessons!



---
1 FREE Lesson Every 90 Days!
Call: (856) 662-6855

Lesson Time Slots
Mon - Fri: 1:00 pm - 8:00 pm

Hours
Mon - Fri: 10:00 am - 8:00 pm
Saturday: 12:00 pm - 3:00 pm