Beginner's Guide
Part 1

Getting The Most Out Of Piano & Guitar Lessons!

Piano Lessons & Guitar Lessons In Your Home, Cherry Hill, NJ and Vicinity.
The following guidelines will help you to have a successful, rewarding experience learning how to play the piano or guitar.

These are practical tips that we have discovered from years of teaching and our experiences with teaching hundreds of students each year.

1. HOW YOUNG IS TOO YOUNG - STARTING AT THE RIGHT AGE

Adults can start any instrument at any time. Their success is based on how willing they are to commit to practicing. We have taught working adults in their 20's and 30's, as well as retired adults.
For children, starting at the right age is a key element to the success of their lessons. Some people will tell you "the sooner the better", but this attitude can actually backfire and be a negative.
If a child is put into lessons too soon, then they may feel overwhelmed and frustrated and want to stop lessons. The last thing you want to do is turn a child off music just because they had one unpleasant experience which could have been prevented.

Sometimes if the child waits a year to start lessons their progress can be much faster. Children who are older than the suggested earliest starting age usually do very well.
The best indication that your child is ready for music lessons is their enthusiam and their attention span. If they've already attended, or are currently attending preschool or first grade, chances are that they can handle a 30-minute piano or guitar lesson.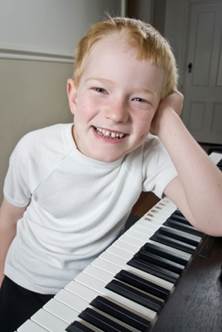 Piano/Keyboard
At our school 5-years-old is the youngest age that we start children in private piano lessons. At this age they have begun to develop longer attention spans and can retain material with ease.
Guitar - Acoustic, Electric and Bass
8-years-old is the earliest we recommend for guitar lessons. Guitar playing requires a fair amount of pressure on the fingertips from pressing on the strings. Children under 8 generally have small hands and may find playing uncomfortable. Bass guitar students are generally 10 years old.

2. INSIST ON PRIVATE LESSONS WHEN LEARNING A SPECIFIC INSTRUMENT

Group classes work well for preschool music programs and theory lessons, however, when actually learning how to play an instrument, private lessons are far superior since in private lessons it is hard to miss anything, and each student can learn at their own pace.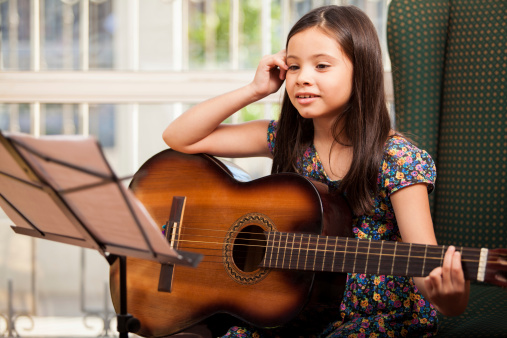 3. TAKE LESSONS IN A COMFORTABLE ENVIRONMENT

Learning music is not just a matter of having a qualified teacher, but also having an environment that is relaxed and comfortable. What better place than your own home? This is especially true for younger students who have been sitting in a school classroom all day
With only 30 minutes of lesson time per week, a home learning environment gives your son or daughter quality music training, without the feeling of jumping from one school classroom to another, and studies have shown that a home learning environment produces better results.
Connect with us on Facebook for regular updates on practice tips, performance tips and much, much more!

Piano Lessons & Guitar Lessons In Your Home, Cherry Hill, NJ and Vicinity.

Piano & Guitar Lessons In Your Home!
Proudly Serving: Cherry Hill, Pennsauken, Cinnaminson, Moorestown, Merchantville and Maple Shade, NJ.

 Phone: (856) 662-6855
Hours: Monday to Friday 10:00 a.m. to 8:00 p.m. EST
Saturday 12:00 p.m. to 3:00 p.m.
Closed on the following National Holidays:
* New Years Day * Memorial Day * Independence Day
* Labor Day * Thanksgiving * Christmas

Remember To Bookmark Our Site!
Offering quality music lessons in: Piano • Guitar • Voice
1 FREE Lesson Every 13 Weeks!
Follow Us On Social Media