Student Of The Month   
Ella Damico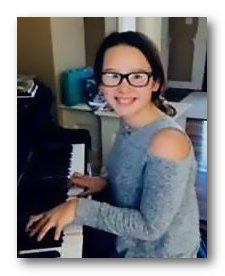 People seem to get confused when you mention in-home lessons. "Doesn't that get uncomfortable?" What people don't realize is it only becomes uncomfortable if you or the family makes it uncomfortable.

This is where Ella Damico comes in. First off, this girl has one of the best ears in music. She can hear a song once and be able to play it right back to you, and she can also transpose any song at the top of a hat.

Besides her ear, her and her family are the kindest souls I have ever met. As I was leaving their house one day, I was asked if I could just follow the kids through college, because I "am basically family now."
And that right there is the reason I do in-home lessons.So thank you, Ella, for making me part of your family.
 - Laura Carione, Piano Teacher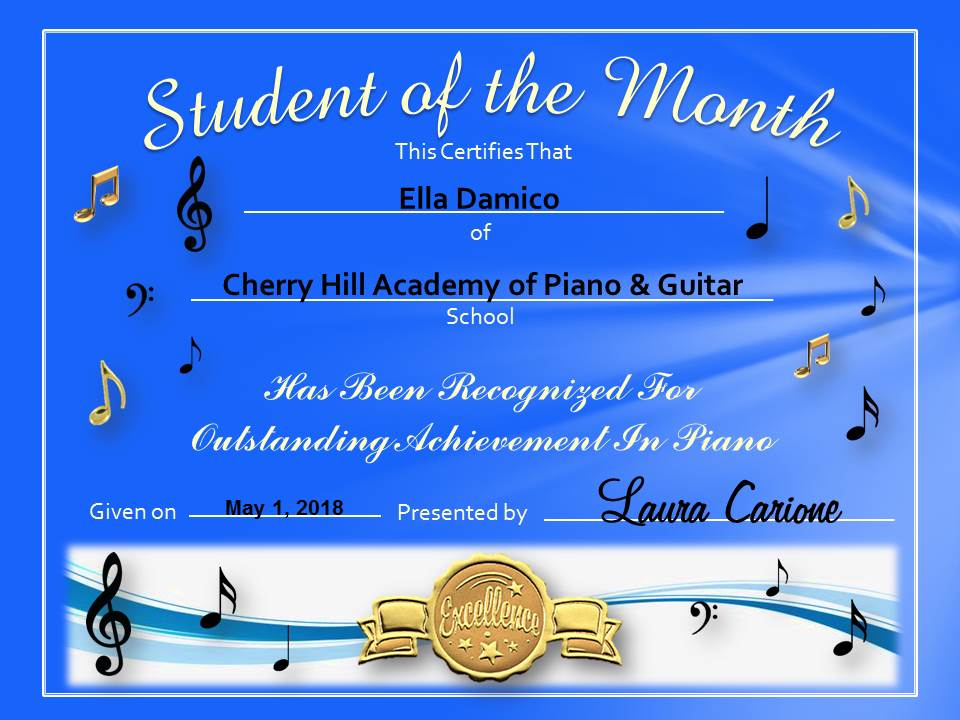 Congratulations Ella! Your framed Certificate of Achievement is on the way!
Interview with Ella Damico
What instruments do you play? Piano and clarinet.

How long have you been taking piano lessons? 6 ½ years.

Who are your favorite musical artists? David Bowie and Camila Cabello.

What are your other hobbies besides music? I love swimming, tennis, and cats.

Favorite food? Pork roll and raw cookie dough!

What is the coolest thing you've learned in your lessons the past 3 months? Being able to play newer songs.

Advice for other students?
Don't
be afraid to ask for things you want!

Piano & Guitar Lessons In Your Home!
Proudly Serving: Cherry Hill, Pennsauken, Cinnaminson, Moorestown, Merchantville and Maple Shade, NJ.

 Phone: (856) 662-6855
Hours: Monday to Friday 10:00 a.m. to 8:00 p.m. EST
Saturday 12:00 p.m. to 3:00 p.m.
Closed on the following National Holidays:
* New Years Day * Memorial Day * Independence Day
* Labor Day * Thanksgiving * Christmas

Remember To Bookmark Our Site!
Offering quality music lessons in: Piano • Guitar • Voice
1 FREE Lesson Every 13 Weeks!
Follow Us On Social Media