Musical Geniuses Are Not Born, They Are Made!
---
Piano Lessons in Cherry Hill, Marlton, NJ.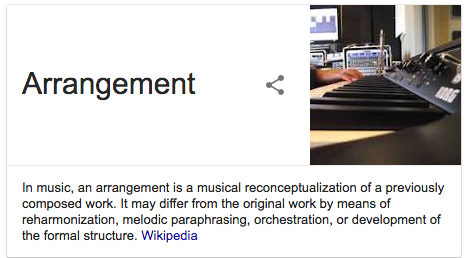 Daily Habits of a Musical Genius!
Habit 8 - Learn How To Arrange

What is arranging?

The ability to arrange means that you can take someone else's song and make it your own. There are many ways that you can do this.

Here are a few arranging tips:

Embellish the melody
Change the chords - aka: reharmonizing
Change the style

In tomorrow's post I'll talk about how to use these arranging techniques in more detail.

In-Home Piano & Guitar Lessons 
Proudly Serving: Cherry Hill, Marlton, Evesham Township, Haddonfield and Voorhees, New Jersey 

Phone: (856) 662-6855
Hours: Monday to Friday 10:00 a.m. to 8:00 p.m. EST
Saturday 12:00 p.m. to 3:00 p.m.
Closed on the following National Holidays:
* New Years Day * Memorial Day * Independence Day
* Labor Day * Thanksgiving * Christmas

Remember To Bookmark Our Site!
Offering quality music lessons in: Piano • Guitar • Voice
1 FREE Lesson Every 13 Weeks!
Follow Us On Social Media