Musical Geniuses Are Not Born, They Are Made!
---
Piano Lessons in Cherry Hill, Marlton, NJ.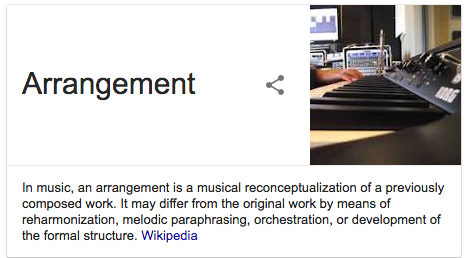 Daily Habits of a Musical Genius!
Habit 8 - Learn How To Arrange

What is arranging?

The ability to arrange means that you can take someone else's song and make it your own. There are many ways that you can do this.

Here are a few arranging tips:

Embellish the melody
Change the chords - aka: reharmonizing
Change the style

In tomorrow's post I'll talk about how to use these arranging techniques in more detail.

Offering quality music lessons in: Piano • Guitar • Voice
1 FREE Lesson Every 13 Weeks!
Call: (856) 662-6855

Hours
Mon - Fri: 10:00 am - 8:00 pm
Saturday: 12:00 pm - 3:00 pm


Serving: Cherry Hill, Cinnaminson, Maple Shade, Merchantville, Moorestown, Marlton,
Voorhees, NJ & Vicinity.

Follow Us On Social Media
Now Offering In-Home Voice Lessons