Student Of The Month       
Francesca Conti

I have been teaching Francesca for about 5 years now, and have noticed almost from the very beginning that she was able to grasp new musical concepts very quickly. She enjoys many different styles of music and has gradually progressed to composing her own songs!

I have enjoyed creating piano arrangements for her and she can easily learn an advanced 10-page piece of sheet music in a week or two, which can be attributed to her 60-minute daily practice sessions.

Francesca has a high level of commitment to her music education and I have no doubt that she can take her musical abilities as far as she wishes to go.
Guy Faux, Francesca's Piano Teacher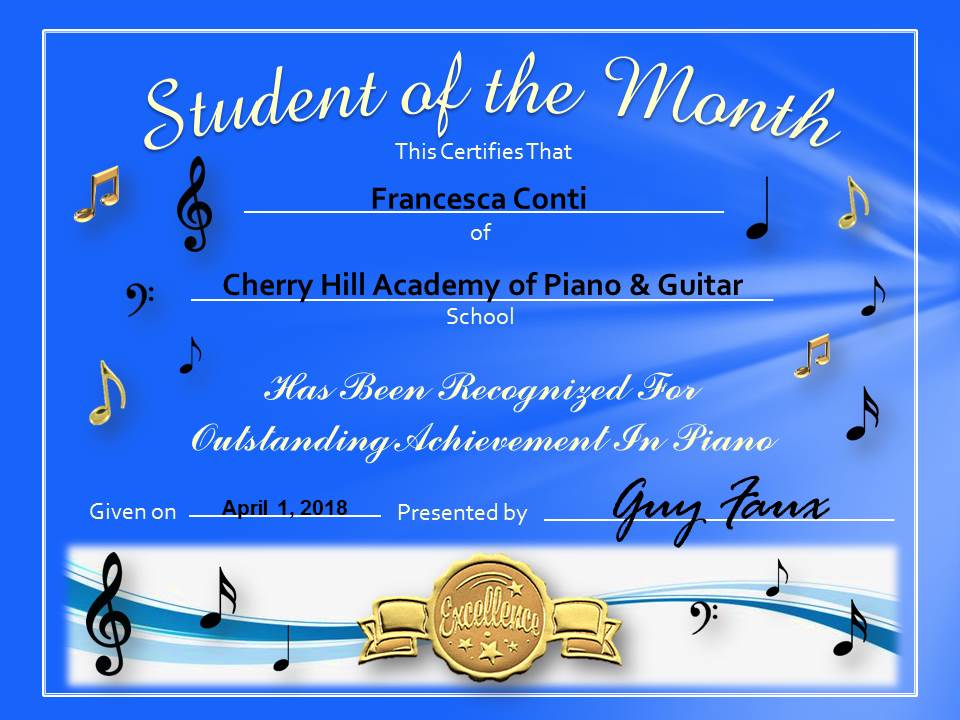 Congratulations Francesca! Your framed Certificate of Achievement is on the way!
---
Interview with Francesca Conti
---
What instrument do you play? Piano

How long have you been taking piano lessons? Six years.

Who are your favorite musical artists? Michael Bublé, Adele, and Ariana Grande.

What are your other hobbies besides music? Playing tennis, reading and baking.
Favorite food? Italian!
What is the coolest thing you've learned in your lessons the past 3 months? Always keep the audience wanting more.
Advice for other students? Play songs you love!
In-Home & Online Music Lessons 
Proudly Serving: Cherry Hill, Marlton, Evesham Township, Haddonfield and Voorhees, New Jersey 

Phone: (856) 662-6855
Hours: Monday to Friday 10:00 a.m. to 8:00 p.m. EST
Saturday 12:00 p.m. to 3:00 p.m.
Closed on the following National Holidays:
* New Years Day * Memorial Day * Independence Day
* Labor Day * Thanksgiving * Christmas

Remember To Bookmark Our Site!
Offering quality music lessons in: Piano • Guitar • Voice

$32.00 per 30-minute private lesson held once a week.
One-Time Registration: $25 per household

1 Free Lesson Every 13 Weeks:
Applies to In-Home Lessons Only

Follow Us On Social Media