Getting Great Piano Practice Every Day!
Tip #3 For Piano Students - All Levels
---
Piano Lessons In Voorhees and Marlton, NJ.

Sheet Music or No Sheet Music

There are at least two schools of thought when it comes to learning how to play the piano. One, you should learn how to play the traditional way and learn how to read sheet music, or two, you should forget about formal training and learn how to play by ear!
Of course, having a good ear and being able to play any song just by listening to it isn't too shabby either - which brings us to a couple of very good questions.
Which skill is better? Or more to the point, which skill would you like to have?
It would be nice if you could just pick one or the other and then pursue that course of study. Unfortunately, it's not that easy.
And while there are countless numbers of piano players who play by ear without the help of sheet music, the majority of them learned this skill in their teenage or young adult years.
If you're beginning piano lessons and you're between the ages of 5 and 12, then a more traditional course of study would be more beneficial for you. 
Traditional Piano Lesssons
To put it simply, traditional piano lessons consist of learning the names of the notes on the music staff, along with the rhythmical values of notes, (number of beats), such as whole notes, half notes and quarter notes.
If this is the course of study that you find yourself enrolled in, then I suggest that you do some extra work on your own, over and above what your piano teacher assigns to you each week, and commit to learning the notes on the treble and bass clefs. 
I also recommend that you do this as quickly as possible. If you do, then you will get significantly more enjoyment from your lessons.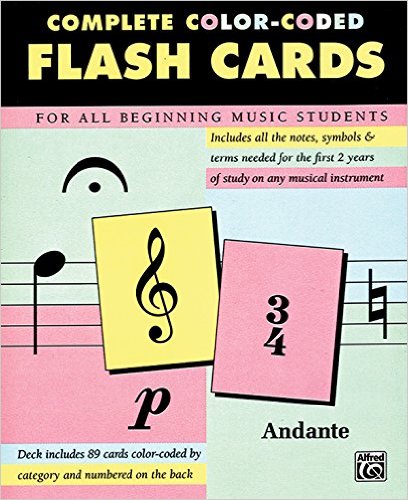 With technology being what it is today, there are plenty of apps to make this process quick, easy and fun! If you don't have access to an iPad or cell phone, then there's always the good old-fashioned approach: Flash Cards, (see image to the right).

If you commit yourself to learning and memorizing one new note a week, then you'd learn two octaves above and two octaves below middle C in just 29 weeks -- that's just a little under seven months.
With a little help from friends and family members, you'll be in a position to get so much more out of your piano lessons than you would if you decided to just learn the notes as they were taught in your lesson book.
Even if you can't get consistent help, you can still accomplish the task of learning the notes on the music staff all by yourself if you spend just 10 minutes a day with a set of basic flash cards. That's all you really need.  
Connect with us on Facebook for regular updates on practice tips, performance tips and much, much more!

---
---
Check back for more great tips to help your son or daughter get great piano practice on a consistent basis.
Piano Lessons In Voorhees and Marlton, NJ.

Piano & Guitar Lessons




Cherry Hill,

Cinnaminson, Delran,

Haddonfield, Maple Shade, Marlton, Merchantville, Moorestown, Voorhees, NJ.


Music Lessons In Your Home




Also Offering

Online

Lessons!



---
1 FREE Lesson Every 90 Days!
Call: (856) 662-6855

Lesson Time Slots
Mon - Fri: 1:00 pm - 8:00 pm

Hours
Mon - Fri: 10:00 am - 8:00 pm
Saturday: 12:00 pm - 3:00 pm