Quick Piano Tip #6

---
Piano Lessons in Marlton, Cherry Hill, NJ.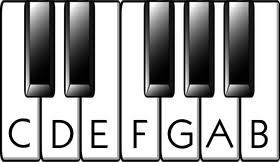 Play the Left Hand Softly

If you're playing a contemporary pop song, then your right hand usually plays the melody, and your left hand normally plays the accompaniment, which consists of blocked and broken chords.

The goal when playing this type of piano arrangement is to make sure the melody stands out from the chords (harmony). Of course, you don't just want to play the right-hand melody louder — what you really want to do is play the left hand softer.

A good practice technique for accomplishing a quiet left hand is to practice the left hand separately and as quietly as you possibly can.

If you do this on a regular basis, you will develop a greater sense of control with your left hand — so when you do play both hands together, (even if your left hand ends up playing louder), it will still be much quieter than the right-hand melody.

Piano & Guitar Lessons




Cherry Hill,

Cinnaminson, Delran,

Haddonfield, Maple Shade, Marlton, Merchantville, Moorestown, Voorhees, NJ.


Music Lessons In Your Home




Also Offering

Online

Lessons!



---
1 FREE Lesson Every 90 Days!
Call: (856) 662-6855

Lesson Time Slots
Mon - Fri: 1:00 pm - 8:00 pm

Hours
Mon - Fri: 10:00 am - 8:00 pm
Saturday: 12:00 pm - 3:00 pm