Quick Piano Tip #7

---
Piano Lessons in Marlton, Cherry Hill, NJ.

Call: (856)662-6855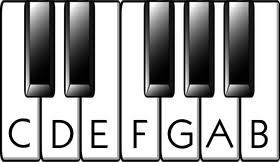 Learning Chords

Chords are the inner workings of music. If you understand chords, then you understand how music works.

I've been playing the piano for fifty years now, and it wasn't until I learned chords and how they were interrelated with the melody, that I actually started enjoying music to its fullest.

If you haven't started learning chords, then I suggest you ask your piano instructor to teach you the C major chord in root position, first inversion and second inversion. (see image below)

Learning chords really is the key to whether you'll be playing the piano for a few years OR fifty years.

For me, learning Chord Style Piano was the best thing I ever learned.

I almost quit piano for good when I was 18 — but someone taught me a few chords and I gradually started to understand the secrets of music!

In-Home & Online Music Lessons 
Proudly Serving: Cherry Hill, Marlton, Evesham Township, Haddonfield and Voorhees, New Jersey 

Phone: (856) 662-6855
Hours: Monday to Friday 10:00 a.m. to 8:00 p.m. EST
Saturday 12:00 p.m. to 3:00 p.m.
Closed on the following National Holidays:
* New Years Day * Memorial Day * Independence Day
* Labor Day * Thanksgiving * Christmas

Remember To Bookmark Our Site!
Offering quality music lessons in: Piano • Guitar • Voice

$32.00 per 30-minute private lesson held once a week.
One-Time Registration: $25 per household

1 Free Lesson Every 13 Weeks:
Applies to In-Home Lessons Only

Follow Us On Social Media