Tips For Getting

Awesome Guitar Practice 

Every Day!
Tip #3 For Guitar Students - All Levels

Guitar Teachers In Marlton, NJ.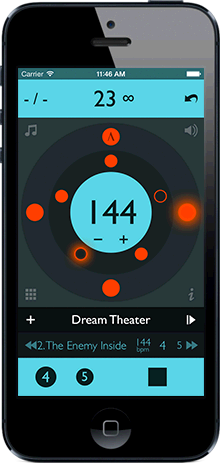 Learn To Play In Time
Whether you're playing in a band, as a duo or as a soloist, being able to play in time is probably the most underrated skill that any musician can have, but it is definitely the most useful.
If you're rhythm isn't what it should be, you might be able to squeak by as a soloist, but try playing in a band or as a duo, and you're going to run into problems very quickly.
Feel The Beat
What does it mean when someone says to feel the beat? 
Whether you're playing in 4/4, 3/4 or some other time signature, the downbeat of 1 tends to be the strongest beat.
As a musician, it's imperative to learn how to feel the first beat of each measure as this is where you normally have a chord change...not that you won't have chord changes on other beats, but the first and third beats are the most common beats for chord changes.
Most digital metronomes today have a function that puts an accent on the first beat, making it noticeably louder than the other beats.
This is just one method to help students learn how to feel the beat. When you can feel that first beat on a consistent basis, you can be sure you're on the right track to building a solid sense of rhythm. 
Of course, if you've been playing for a while, you might want to play along with something a little more realistic than the constant click of a metronome.
Fortunately, in this day and age, with just about any mobile device, you can have a realistic drummer at your fingertips, complete with intros, fills and endings.
Drum machines are especially useful if you're ready to make the jump from a soloist or duo, to a full band. A few months of playing along with a drum machine will improve your rhythm dramatically, and as I said before, is a whole lot more enjoyable than playing along with a metronome.
Connect with us on Facebook for regular updates on practice tips, performance tips and much, much more!
---
Check Back For More Tips For Getting Awesome
Guitar Practice Every Day!
Guitar Teachers In Marlton, NJ.

Piano & Guitar Lessons




Cherry Hill,

Cinnaminson, Delran,

Haddonfield, Maple Shade, Marlton, Merchantville, Moorestown, Voorhees, NJ.


Music Lessons In Your Home




Also Offering

Online

Lessons!



---
1 FREE Lesson Every 90 Days!
Call: (856) 662-6855

Lesson Time Slots
Mon - Fri: 1:00 pm - 8:00 pm

Hours
Mon - Fri: 10:00 am - 8:00 pm
Saturday: 12:00 pm - 3:00 pm