The Cherry Hill Academy Newsletter

---
---
Monthly - February 2019
This free online newsletter is just one way for us to thank our students and their parents for choosing the Cherry Hill Academy of Piano & Guitar.

You are the reason we strive every day to be the best piano and guitar teachers in the Cherry Hill area. Thank you!
Quote of the Month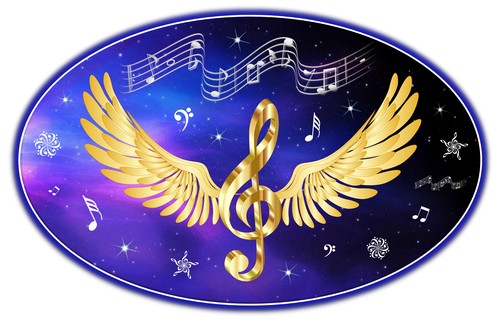 Music gives a soul to the universe, wings to the mind, flight to the imagination and life to everything.
- PLATO
---

---

Scott Joplin (1868 –1917) named the King of Ragtime, Joplin was an African-American composer and pianist. He became famous for his innovative ragtime compositions.

Joplin was born into a musical family, and developed his musical knowledge and writing with the help of neighborhood teachers.

Before his ragtime music became popular, one of his main jobs was as a music teacher! He taught piano, guitar and other stringed instruments.
As a young man he formed a vocal quartet and went to Chicago for the World's Fair of 1893. Over the next few years ragtime became a national craze.
Joplin is best known for the "Maple Leaf Rag", which became ragtime's first and most fundamental hit in 1899. "The Entertainer" which came out in 1902 was sold first as sheet music, and was also one of his most popular hit songs.
The Maple Leaf Rag brought Joplin much success and a steady income for life. In 1901 Joplin moved to St. Louis, Missouri where he continued to compose and publish his music. He regularly performed locally to many a cheerful audience.
With the success he had with ragtime Joplin ventured out to try another musical field, opera!  In 1907, Joplin was very eager to share this with everyone and had to find a producer, so he moved to New York City. Unfortunately, it did not have the same winning formula and made little money.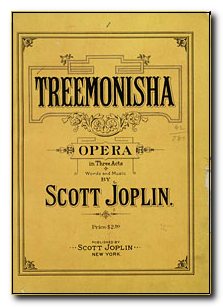 Not giving up and taking what he had learned from his first attempt, his second opera, Treemonisha, was written. Treemonisha celebrates African-American music and culture and has a variety of musical styles incorporated into it. Way ahead of its time, the grand opera did not find an audience until the 1970's.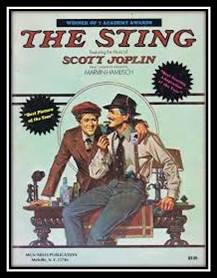 In 1970 the album, "Scott Joplin: Piano Rags" played by Joshua Rifkin was released and Joplin's music became popular again breaking record charts. In 1974 the soundtrack from the Oscar-winning film "The Sting" also hit the top of the Billboard charts. Both albums featured The Entertainer which in combination, sold in the hundreds of thousands in their first year of release.


When Joplin died at the age of 48, it marked the end of ragtime as the main music format.  However, this evolved with other styles that formed music like jazz and big band swing.
During his brief life, he wrote 44 original ragtime pieces, one ragtime ballet, and two operas. Joplin was posthumously awarded a Pulitzer Prize in 1977 for his opera Treemonisha.
Joplin wasn't afraid to try new things like opera or a brand new style of music. We can all learn from him that there's always a new sound to music waiting to be created.
His contribution of ragtime was reflective of the happiness he felt and wanted to share for generations to come. We hope one day you can express the same joy in your music and share it with the world!
Maple Leaf Rag

---
---
---
---
The Entertainer

---
---
---
---
Funny!

Q: What kind of Valentine's Day candy is never on time?

A: ChocoLATE


Q: What do you call two birds in love?

A: Tweethearts.
Q: What did the girl bumble bee say to the boy bumble bee on Valentine's Day?

A: I love bee-ing with you, Honey.

How many times...
have you been asked if you practiced...
and you didn't practice? 

How could you? You told yourself over and over, "I'll get in a few minutes of practice right after..."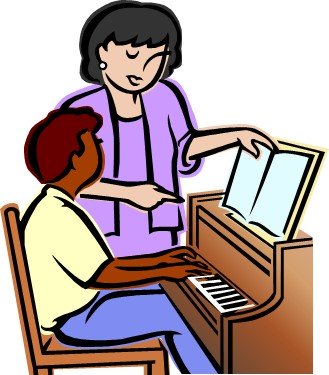 Before you knew it, the whole week went by and your teacher will be here any time now!

If only you had a time machine, then you could go back and practice (and not break mom's favorite vase).

But alas, you can only go forward and lie to your teacher that you practiced.

Wait, what???

That's right! No one, before you -  has ever lied to the teacher about practicing before.

Although your teacher has many years of experience, they don't have a clue that you didn't practice! Not!
Your teacher can tell instantly that you didn't practice! Just like you can't fool your parents, you can't fool your teacher either.
How would you like it if mom or dad told you they made a nice dinner for you, and gave you gray mush in a bowl instead?

How could they? Don't they care?? Of course they do! They always make the effort to give you a well balanced dinner because they know it is good for you.
You make the effort back by washing up before dinner and eating those new vegetables on your plate  - even though they look like they are from another planet.
You do it because your parents taught you that good food means a healthy you. Mom made the effort of trying something new...which later turned out to be your favorite vegetable ever!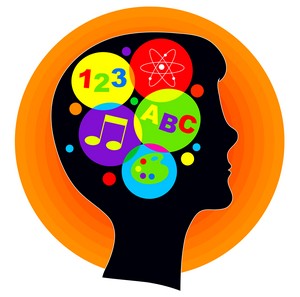 Your teacher really cares about sharing their knowledge of music with you because they care about you too. They know that you must have balance in life and music is brain food!
You have homework, chores and other things throughout the day that you have to focus on. In order for your brain to regroup and relax, music is an important way to help you think more clearly. It helps the fun side of your brain!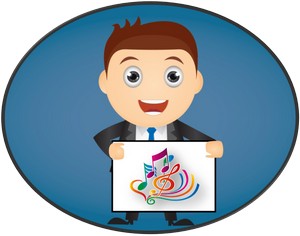 You'll always feel great after listening to music. Your teacher gives you a way of being part of the music that listening alone cannot achieve.

So go ahead...
Try practicing for
One Minute A Day. Before you know it, you'll enjoy practicing and want to go longer. We promise music will be your favorite "vegetable"!


Compare the two pictures and see what is different.
See the answers below!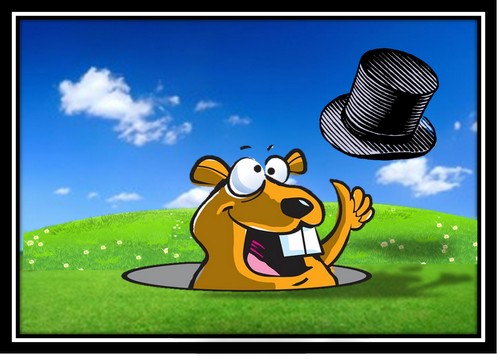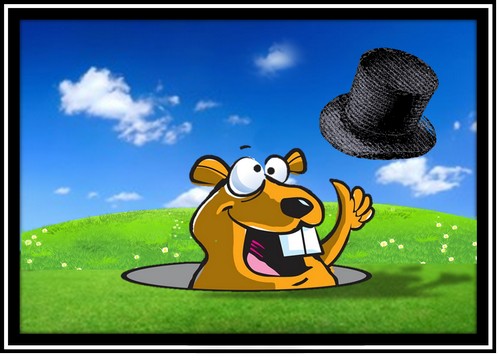 ---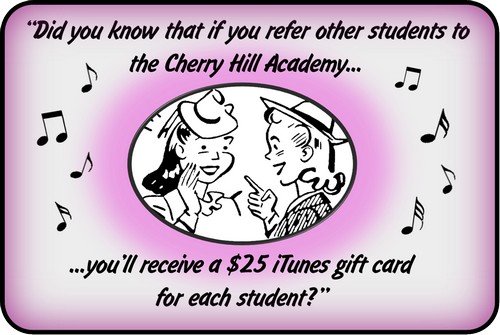 Click Here to Refer a Friend
and get a $25 iTunes Gift Card!


Groundhog Answers...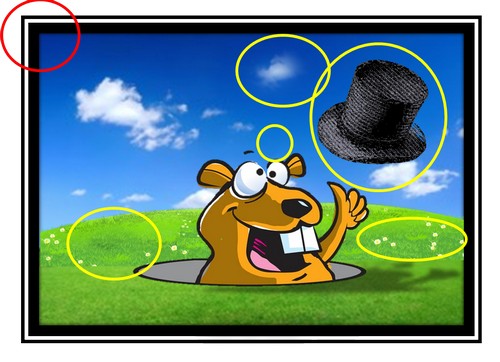 1. The Frame is inverted.
2. Missing 3 flowers.
3. Extra Cloud.
4. Missing an eyebrow.
5. Hat is a different texture.
6. Missing shadow from hat!

---
---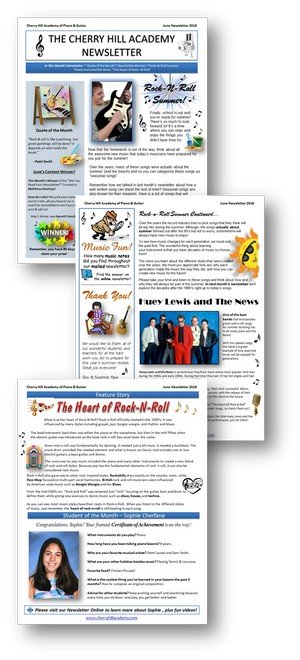 Our Newletters are still available online!


Miss an issue?
Below are links to all the newsletters we've had so far!
Enjoy!

---
---
To request more information about private piano and/or guitar lessons click here.

Sign up today by calling 856-662-6855 or e-mail info@cherryhillacademy.com

HOURS
Lessons are available: Monday through Friday 3:00 to 9:00 p.m.
Piano & Guitar Lessons




Cherry Hill,

Cinnaminson, Delran,

Haddonfield, Maple Shade, Marlton, Merchantville, Moorestown, Voorhees, NJ.


Music Lessons In Your Home




Also Offering

Online

Lessons!



---
1 FREE Lesson Every 90 Days!
Call: (856) 662-6855

Lesson Time Slots
Mon - Fri: 1:00 pm - 8:00 pm

Hours
Mon - Fri: 10:00 am - 8:00 pm
Saturday: 12:00 pm - 3:00 pm